The EHS Foundation created the Quarter Century Club to thank and honor staff and teachers for their outstanding commitment and loyal service to EHS—with so many who have worked for EHS for over 25 years. We wanted to honor only one this first year as the Inaugural Member because no one exemplified Eagle Spirit, loyalty and love more than Mrs. Pressley . . . . .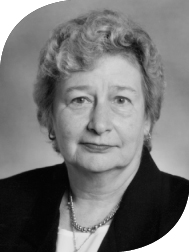 Inaugural Inductee: Jean Pressley
From the fall of 1972 to June 2010, Jean Pressley was not only the first person you would see when you entered the office doors of Edgewater High School, but she was also the "face" of Edgewater!!  As the school's beloved administrative clerk and receptionist, Jean made a real difference to all.  As she managed the front desk, Jean greeted everyone with her warm smile, compassionate heart and southern charm.
More than just a registrar and receptionist, Jean did it all!  She managed student's records, worked on Edgewater's fundraising efforts, chaperoned school functions, proctored tests (even on Saturdays), assisted administrators and teachers, prepared graduation packets, helped parents and students fill out scholarship and college applications, and welcomed new families and students.  Her voice even became iconic as the one you would hear making announcements over the intercom.  We can all hear her now . . . saying "Please excuuuse the interupshun," as she kindly reminded students, teachers and staff of all school happenings.
For nearly four decades, Jean was the registrar, greeter, encourager and motivator. She served generations of students and continues today to talk affectionately about "her children" and all of the positive experiences she shared with them. Students often would come back to EHS years after graduating just to see her or thank her.
Jean's was known for her rapport with the student—she was a counselor, mother, and friend to many.  Frequently they came by her office to discuss problems or simply to get a pat on the back. Mrs. Pressley always seemed to know something about each student and that made every one of them feel important. It's likely, too, that she is the most-hugged staff member in EHS's history.
Her love and dedication to Edgewater High School went far deeper than just her job.  She volunteered to work ball games, traveled with groups, and chaperoned events – such as Grad Nite and Prom.  Jean's school enthusiasm and pride were infectious.  She would cut out articles from the newspaper and post them so students and visitors could see all of Edgewater's accomplishments.
She loved and cared for all students and without reservation, supported all of EHS programs.  Some of her proudest moments reflect memories of success stories and seeing the students graduate. She loved making graduation packages for the seniors, making sure their diplomas, emblems and awards were received.  Even for students who graduated when the school offered night and summer schools, Jean made sure each graduate felt special, as she furnished them with a cap and gown holding ceremonies in the Principal's office, complete with family and pictures!
Jean's message to all students was to always work hard, do your best and work every day to become better.  She often would give a hand or contribute to academic endeavors with her own money.  She loyally bought every item that anyone in the school sold at Edgewater to support students, teachers and clubs and organizations for those 37 years.
In 1992, Jean was nominated and honored as Orange County Public School's Employee of the Year.
The Edgewater High School Foundation is proud to honor Jean Pressley as the Inaugural Member to our newly established "Quarter Century Club!"  Thank you, Jean, for all of your years of service, compassion, dedication, loyalty and love.