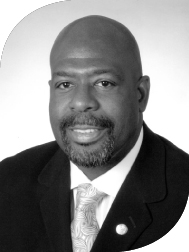 Byron W. Brooks: Professional and Community Award
Byron W. Brooks is a graduate of Edgewater High School in the Class of 1979. He is a native Orlandoan and grew up in the Orange County Public School system during the time of segregated schools.
His father would later enroll him in Edgewater High School when he was a freshman in 1976. While at EHS, Byron participated in band, football and track and he credits many of his coaches as being most influential in his development and focus.
Byron started employment with Orange County government as a Senior Planner and rose to become Deputy County Administrator. He served as the Executive Director/CEO of the Central Florida Regional Transportation Authority (LYNX). Byron was appointed in 2005 as the City of Orlando Chief Administrative Officer, which is the position he currently holds. All of these leadership positions represented a notable achievement in Orlando's history, as Byron was the first African-American to serve in these capacities.
Byron has been very active in the community, serving on and chairing more than 20 board of directors for community organizations; including the Coalition for the Homeless of Central Florida; YMCA Black Achievers; United Way of Central Florida; Negro Spiritual and Scholarship Foundation; Healthy Community Initiative; YMCA of Central Florida; Edgewater High School Foundation, and more.
Byron Brooks has distinguished himself in several Hall of Fame categories, and is being honored tonight for truly making a difference in our community through his outstanding leadership, historic accomplishments, and remarkable Professional achievements.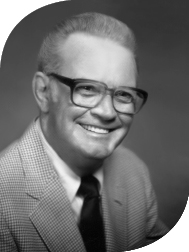 James L. Cinnamon: Athletics Award
James L. (Jim) Cinnamon served as a coach for a variety of sports at EHS, but made his name in his 9-year tenure as the Varsity Boys Basketball coach and Athletic Director. Just two years after arriving at EHS, Jim took Edgewater's basketball team (who were known as the "Cinnamen") to the State Finals in 1960, 1961 and 1965.
Jim was often a featured speaker at basketball clinics held at colleges and universities, including the University of Florida and Stetson University. He was inducted in to the prestigious Florida High School Hall of Fame in 1968.
After nine years serving as basketball coach and Athletic Director for all sports, Jim became an Assistant Principal. He was the anchor whenever a new principal assumed the role of chief at Edgewater, serving under three administrators. In his mind, there was no school that could compare with Edgewater's staff, students and athletes. He was a true and loyal Eagle.
Jim retired from Edgewater High School in 1986 and passed away in 1996. For his legendary contributions in Athletics and Eagle Spirit, we proudly honor Jim L. Cinnamon posthumously into the Edgewater Hall of Fame.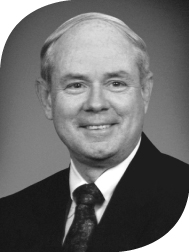 Ben Crosby, Jr : Community Award
Ben Crosby is being honored posthumously for his community involvement and volunteerism in the College Park Community.
What started out as "filling in" for his brother who had signed up to coach a Little League team in 1966 but had to move a month later, turned out to be a 40-year commitment by Ben to the youth of College Park. Ben knew the game of baseball from "A to Z"—the rules, the plays, the skills, and the techniques. However, his leadership was low-key and extremely patient, and most of all positive. He emphasized sportsmanship above all.
While he was competitive and did enjoy winning, that was just a bonus! He enjoyed and encouraged his team members. He "mentored" as he "shaped" the boys' skills and their character, goals and lives while influencing their personal spiritual values and growth. He didn't lose contact with his players, some of whom decades later brought their children and grandchildren to play baseball for Coach Crosby.
While he was truly devoted to Little League, Ben also was highly involved at the College Park Baptist Church where he was ordained as a deacon, taught Sunday School, led Bible study, worked with the youth, participated in the youth and adult mission trips, drove the church bus, and served on numerous committees throughout the 50-plus years he was a member of the congregation. Wherever there was a need, Ben would step forward.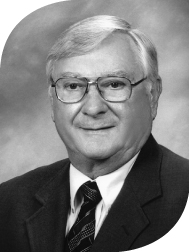 Delbert "Del" Kieffner: Arts Award
In May 1957, after receiving a telegram from Orville R. Davis (the first Principal of Edgewater High School), Delbert K. Kieffner became Edgewater High School's band director.
For 16 years with Del as the band director, Edgewater's band held a record of earning Superior ratings from the Florida Bandmaster's Association every year but one, from 1957 to 1973 in both concert and marching bands. Additionally, Del became Edgewater's Young Teacher of the Year in 1967. In 1964, Edgewater High School's band was chosen to represent central Florida in the New York World's Fair.
Over the years, Del enjoyed playing in the Florida Symphony, as well as in the Vaughn Monroe "big band," Miss Florida pageants, and at Rollins College stage shows.
In 1971, Del was asked to participate in organizing and planning Walt Disney World's opening day parade of 1,075 high school musicians. From that day forward, he was involved in selecting performing groups who would be invited to play at Disney. Del also assisted and directed the live music for the first Disney half time show at the Citrus Bowl. That same show went on to the Super Bowl that year.
In 1973, Del became Instrumental Teacher Supervisor of Orange County Public Schools. Later he would be inducted by Orange County to Instrumental Music Teachers Association as a Legend of Orange County Band Directors. In 2007, the American Alliance of Performing Arts Educators established the "Del Kieffner Award" to be given to deserving directors in the performing arts.
Delbert K. Kieffner is being inducted in to the Edgewater High School Hall of Fame for his outsanding commitment and contributions to the Arts here at Edgewater High School and in our community.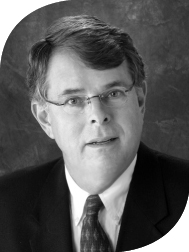 George Stuart: Professional and Community Awards
George L. Stuart, Jr. was born in Orlando and grew up in College Park, attending Princeton Elementary, Robert E. Lee Junior High, and graduated from Edgewater High School in 1964. While at Edgewater, he served as President of the Student Council and State Treasurer of Florida Key Club. He also played Varsity basketball under Coach Jim Cinnamon as well as the first base for the Eagle baseball team.
Just a few years after receiving his BA in Political Science from the University of Florida and graduating with an MBA from the Harvard in 1970, George began his career of public service and served on the City Council of Orlando from 1972-1978. In 1978, George was elected and served three terms in the Florida State Senate. George Stuart later served as Secretary for the Florida Department of Business and Professional Regulation from 1991 to 1995.
George now consults with companies nationally in developing initiatives in governmental relations, business development and strategic planning.
With extensive involvement in our community, George has served on many community boards, including the Boys & Girls Clubs of Central Florida, the Orlando Health Foundation, the UCF Foundation and the Florida Citrus Sports Association. He also has chaired major capital campaigns for the John Young Science Center, the American Heart Association, the United Negro College Fund as well as the first fundraising effort to establish a football team at UCF. With his love for youth, George has coached Upward Basketball for fourteen years as well as baseball for Little League and Senior Little League. He has also been an active board member of several high school crew teams, including the Edgewater's Crew Team.
The Edgewater High School Hall of Fame is proud to induct George L. Stuart, Jr. for his civic service and outstanding academic, professional and community accomplishments.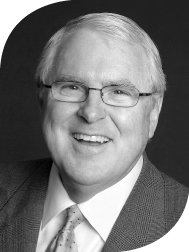 Jacob Stuart: Professional and Community Awards
Jacob V. Stuart grew up in the College Park area and attended Princeton Elementary, Robert E. Lee Junior High and Edgewater High School, graduating in 1966.
At Edgewater, Jacob excelled in athletics and school service. He played both basketball and football. While he was recognized throughout central Florida for his football skills, he was also a part of the 1965 Florida State Runners-Up 6A Basketball team. On the football team, he was Captain and All-County Defensive End for Edgewater, leading them to two Metro Conference titles. Jacob was also active in student government and became the Student Body President during his senior year. He was active in Key Club and later represented EHS at Boy's State, a statewide leadership camp.
Jacob followed his brother George to the University of Florida. Later, he worked as a staffer for Congressman Bill Gunter from the 5th District, during which he lived on Capitol Hill. When he came home, he published "More Than a Memory" (a book about the history of Orlando), and then became involved in government under Mayor Bill Frederick.
Jacob then became the President of the Orlando Area Chamber of Commerce which now is the Central Florida Partnership, where he has served Central Floridians for 25 years.
Among his public service credits, Jacob, while on leave of absence from the Chamber, served as chief of staff and director of the transition team in the 1987 for then incoming Florida Governor, Bob Martinez, Then in 1991, he was elected Chairman of the Board for LYNX, central Florida's public transportation system. In July 2008, he was named as one of the 50 Most Powerful People in Orlando by Orlando Magazine.
The Edgewater High School Hall of Fame is proud to recognize Jacob V. Stuart not only for his notable service and athletic achievements as an Edgewater Eagle, but for his outstanding, lifelong commitment to public service and his professional achievements.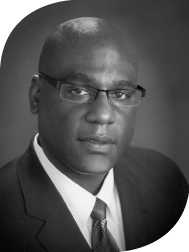 Dexter Williams: Eagle Spirit Award
Dexter Williams was born and raised in the historic Town of Eatonville. He is a proud graduate of Edgewater High School from the class of 1982. While at Edgewater, he played on Edgewater's Varsity football team.
Dexter has proven his loyalty and dedication in all aspects of his life, including being a leader in the company he has worked for since graduating from Florida State University. Dexter's true character, however, is exemplified in the volunteer service he dedicated to youth in the community. For 25 years, Dexter has been a volunteer coach in basketball, t-ball, flag football and Pop Warner football. As a youth basketball coach, his teams have won numerous local, state, regional and national championships.
The service that Dexter has given to Edgewater High School is exemplary of a loyal graduate. For more than 20 consecutive years, Dexter has served as a volunteer coach for the Junior Varsity and Varsity EHS Boys Basketball teams. He has provided thousands of hours coaching and mentoring to students and players. He has helped Edgewater reach five Regional Finals in 1998, 2001, 2003, 2004, and this year's 2012 season, four Regional Championships, in 1998, 2001, 2003 and 2004, two State Runners Up awards in 1998 and 2003, as well as one State Championship in 2004. Since coaching, Williams has also helped a large number of students obtain athletic and academic scholarships to a variety of colleges and universities.
In addition, Dexter has served on the Edgewater High School Foundation board and on the Edgewater Reconstruction Task Force.
Dexter Williams emanates loyalty, school pride, commitment and generosity and exceeds merit for the Edgewater High School Hall of Fame's "Eagle Spirit Award."