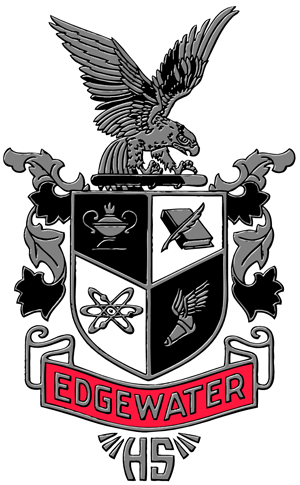 Please join us in honoring the newest members of the
Edgewater High School Hall of Fame
Class of 2022
Induction Ceremony
Saturday, April 30, 2022
5:30 pm – 9:30 pm
5:30-7:00 p.m. Hors d'oeuvres Reception
in the EHS Cafeteria/Atrium
7:00-9:30 p.m. Hall of Fame Induction Ceremony
in the O.R. Davis Auditorium
2022 Hall of Fame Inductees
Ralph "Tommy" Browning (Class 1960)
Howie Dorough (Class 1991)
Michael Gonzales (Class 2005)
Mykal Kilgore (Class 2001)
Elizbeth Allan Reid (Class 1969)
Alan MacAllster (Class 1960)
Nancy Robbinson (Class 1982)
Bill Robbinson (Class 1980)
Georgio Rodriquez (Class 2000)
Patti "Neal" Whitted (Class 1976)
Joseph "Vincent" Zappini (Class 1966)
Tickets prices are $75.00 per person or for table sponsorships (seating for 8) are $1,000.
Edgewater High School Hall of Fame, we are thankful for the opportunity to celebrate some of our school's most outstanding staff and alumni. Teachers and staff have walked the halls of our school and we are honored to look back on a part of our school's 60-year history and reconnect with those who have laid the foundation!
With the help of long-time EHS supporters and advocates, the EHS Foundation established The Edgewater High School Hall of Fame in 2011. The purpose of the Edgewater Hall of Fame is to honor distinguished Edgewater alumni and supporters who are acclaimed through their outstanding accomplishments in one of six categories: Arts, Academics, Athletics, Professional, Community and Eagle Spirit.
Edgewater has many outstanding alumni who have used their education and experience to become successful, positive contributors to society. We believe that positive role models are extremely important in today's world and that these graduates of EHS should be held up as role models for today's students.
Candidates are nominated annually and presented to the EHS Hall of Fame Board of Trustees. The trustees review and select the inductees. The EHS Foundation is proud to present and celebrate these distinguished inductees at the EHS Hall of Fame Induction. In addition, a permanent display honoring the inductees has been established in halls of the O. R. Davis Auditorium so that students, staff, parents and visitors will be able to commemorate the legacy of these inductees.