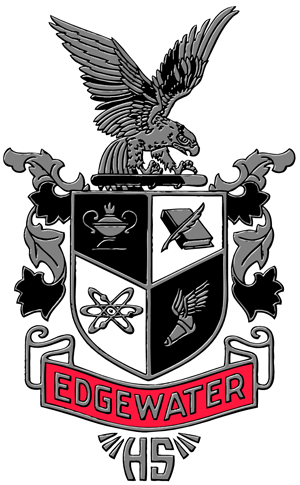 Please join us in honoring the
Edgewater High School Hall of Fame
Class of 2018
Saturday, April 14, 2018
6:00 – 9:30 p.m.
6:00-7:30 p.m. Hors d'oeuvres Reception
in the EHS Cafeteria/Atrium
7:30-9:30 p.m. Hall of Fame Induction Ceremony
in the O.R. Davis Auditorium
2018 Hall of Fame Inductees
Dr. Michael Blasewitz
Ritsy  Carpenter (Class of 1972)
Dr. Marvin Hardy (Class of 1987)
Rick Jaffe (Class of 1975)
Leanne Jakubowski O'Regan (Class of 1980)
Dennis Kamrad
Tina McCall Waters (Class of 1876)
Joe & Janice Nisbett
Ernest Palmer (Class of 1956)
Tari Phillips (Class of 1986)
Sharon Vaughn (Class of 1965)
Arthur Willett (Class of 1963)
In addition to the Hall of Fame program, we will be recognizing
EHS Staff and Teachers as part of the EHS "Quarter Century Club"
for their dedication and service to EHS for more than 25 years!
Tickets prices are $75.00 per person or for table sponsorships (seating for 8) are $1,000.
Edgewater High School Hall of Fame, we are thankful for the opportunity to celebrate some of our school's most outstanding staff and alumni. Teachers and staff have walked the halls of our school and we are honored to look back on a part of our school's 60-year history and reconnect with those who have laid the foundation!
With the help of long-time EHS supporters and advocates, the EHS Foundation established The Edgewater High School Hall of Fame in 2011. The purpose of the Edgewater Hall of Fame is to honor distinguished Edgewater alumni and supporters who are acclaimed through their outstanding accomplishments in one of six categories: Arts, Academics, Athletics, Professional, Community and Eagle Spirit.
Edgewater has many outstanding alumni who have used their education and experience to become successful, positive contributors to society. We believe that positive role models are extremely important in today's world and that these graduates of EHS should be held up as role models for today's students.
Candidates are nominated annually and presented to the EHS Hall of Fame Board of Trustees. The trustees review and select the inductees. The EHS Foundation is proud to present and celebrate these distinguished inductees at the EHS Hall of Fame Induction. In addition, a permanent display honoring the inductees has been established in halls of the O. R. Davis Auditorium so that students, staff, parents and visitors will be able to commemorate the legacy of these inductees.